THIERRY
FOURNIER MAZAL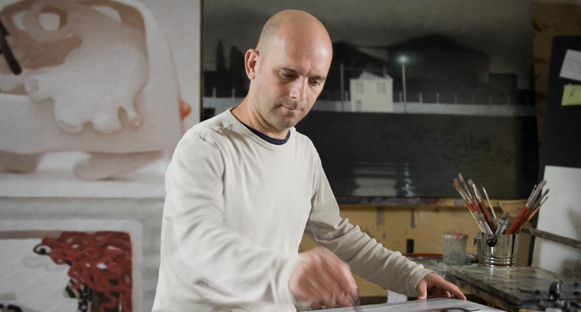 email :  t.mazal@yahoo.fr 
Tel : 06 21 42 69 96
Here are the highlights of my artistic career :
From 1971 to 1975 I started painting, drawing, crafting sculptures and engravings in painter Pierre Morin's studio in Garges les Gonesse (Val d'Oise, France)
From 1980 to 1984 I continued my studies at 
L'ECOLE SUPERIEURE D'ARTS APPLIQUES DUPERRE , Paris
In 1985 I joined
THE ANIMATION FEATURE  FILM INDUSTRY,
using  the name :
Thierry Fournier
From January 1989 till end of 1991 : STUDIO ELLIPSE
Head of colour background on the series "Tintin" (Adaptation from the comics" Tintin's adventures" Hergé, Background supervisor in Seoul (South Korea)
From 1996 to December 2002 :  WALT DISNEY FEATURE ANIMATION France
Background painter on the long feature film "Hercules"
Background painter on the long feature film « Tarzan »
Visual development and background painter on the long feature animation film « The treasure Planet" (Painting technique on graphic palette)
Production designer for the short film « Destino » adapted from the original idea by Salvador Dali and Walt Disney http://youtu.be/1GFkN4deuZU ( Featured in the blue ray version of Fantasia 2000)
From June 2006/March 2007 : AMUSE FILMS
–         Visual development for the long feature animation film "Les Lascars"
From January 2008/July 2008 : UNIVERSAL PRODUCTION in London
key lightings on computer for a long feature animation film 3D « The Tales of Despereaux»
 At present I am spending much of my time on
PAINTINGS AND EXHIBITIONS
2003 : Collectives at « Les Métallos » (Paris 75001)
Auction room Richelieu Drouot in Paris 75009 « Art Contemporain » in 2005
October 2004 : Award at the Art Fair of Saint Laurent Lolmie (France)
October 2004 : Ateliers de Ménilmontant (Open days, Paris)
July 2005 : Moret sur Loing at the Prieuré of Pont Loup (France)
March/April 2006 : L'Arbalète's Gallery (Paris 75005)
October 2007 : Art Shopping Fair at the Carrousel du Louvre (Paris)
October 2008 : First international contemporary art show « Place aux artistes » (Paris)
November 2008 : Group exhibition, V. Hadida , JJ. Bidan and myself, Organised by
S. Moran (Paris)
October 2009 : Exhibition at the Crous Gallery (Paris) with V. Hadida
July 2010 : Exhibition at the LVS Gallery in Seoul (North Korea)
20 jars of 70 x 90 cm ; Oil on canvas. On the website, at the "Jars" section
September 2010 : Exhibition at the Hôtel de Ville of Sèvres (92, France)
I am currently preparing an exhibition for late 2011 at the Gallery « Matières d'Art »…
See you soon,
Thierry
Thank you Berthe for the translation.